Fostering First Ireland, Investing in Children Membership Award 2023.
Fostering First Ireland (FFI) are delighted to have achieved renewal of the Investing in Children Membership Award™ for our amazing young people's forum Chatter Matters!
Investing in Children (IiC) is an initiative that promotes the human rights of children and young people. Over the last 21 years, IiC has developed a range of different ways in which children and young people are supported to say what they want to say, and help to improve services used by them, by discussing their ideas with the adults who run the services.
The Investing in Children Membership Award™ Scheme recognises and celebrates examples of imaginative and inclusive practice with children and young people. Organisations applying for the award have to demonstrate dialogue with young people which leads to change. However, children and young people have to provide the evidence for the organisation and endorse the membership report because it is a children's and young people's award. There are currently over 500 members across the UK and Ireland
FFI's Chatter Matters forum was established to offer young people in foster care with FFI a space to be heard, listened to and to have their views acted upon in relation to the service that FFI provides.
"FFI is very aware of things and constantly looking at how to improve things. Normally if you have an idea that would benefit the organisation, they take it forward".
Quote from young person
The young people decide what they would like to work on as part of the Chatter Matters group and as a group of young people from differing cultural backgrounds they decided to focus on promoting culture and diversity within FFI. The young people developed a booklet 'Carers for Culture' to increase cultural awareness among FFI's foster carers and to provide them with advice around how to support a young person to stay connected to their cultural heritage.
'When we came together to talk about our experience of care, we found out similarities. We decided we would make a book about culture". Quote from young person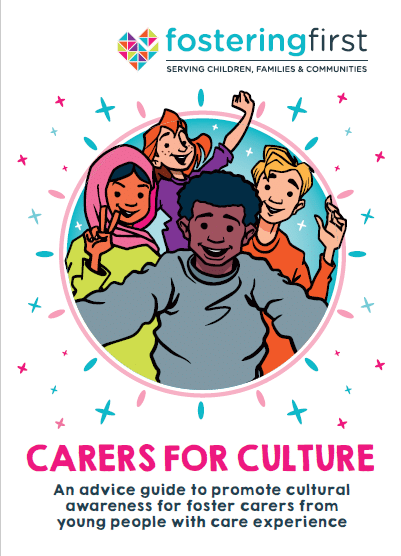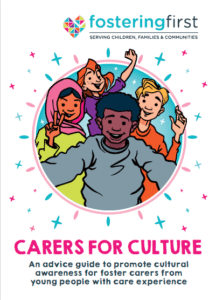 The young people organised and facilitated FFI's first ever Intercultural Day where all the different cultures that exist in FFI were celebrated and the Carers for Culture booklet was launched. The young people also provided advice and feedback in relation to FFI's Culture and Diversity training for foster carers.
The Investing in Children Membership Award evaluation report, which was based on evidence heard directly from the young people, concluded:
'Throughout my discussions with the young people, there was clear evidence of the ways they have a voice and the changes they make as a result of this. When I asked them if they believe FFI should have its Investing in Children Membership Award™ renewed based on this, they all said Yes. "100% we experience it first-hand".
Aideen O'Brien (Children's Services Manager) said 'We are delighted to have received renewal of the Investing in Children Award which highlights FFI's continuing commitment to hearing the views of children and young people in foster care. The work of our Chatter Matters group will be of benefit to many young people and their foster carers for years to come. I would like to say a huge thank you to the amazing young people who are part of the Chatter Matters group for sharing their views, opinions and experiences with us.'
Katie Fleming (Social Care Worker) said 'We are so proud of our Chatter Matters group and their achievement of receiving the Investing in Children Award. It was a privilege to work alongside these amazing, talented and creative young people and witness their brilliant ideas come to life. Thank you to the wonderful Chatter Matters group, you are an inspiration to us all.'
Marie Faughey (Director, FFI) said: 'I am very proud that Fostering First's commitment to promoting the voice of young people is recognised by the Investing in Children Award. Thank you especially to the fantastic young people in our Participation Group Chatter Matters for their vote for this award and all they contribute to making the voices of young people visible and at the forefront of what we do.'